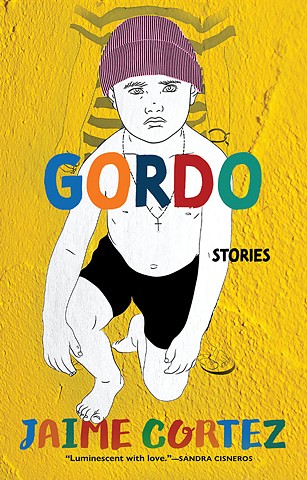 HOW TO ORDER GORDO
PAPERBACK:
Buy Gordo in paperback form
AUDIOBOOK:
Download Gordo as an audiobook
GORDO REVIEWS AND PUBLIC NOTICE


–|By Mateo Askaripour in the New York Times Review of Books|
- www.nytimes.com/2021/08/17/books/review…
–"…the strength of Cortez's work is that he lays out these stories without defining his characters by their worst actions, showing us people who are closer to reflections of ourselves than we think, even if they do not look like us, or come from the places we call home. And this is the book's superpower: the cultivation of empathy. In "Gordo," Cortez assumes the role of a documentarian, depicting the comical, difficult and heartfelt realities of his characters, where hurt, in some form or another, may be lurking around every corner, but so is joy."|


–|By Michael Schaub in National Public Radio|
- www.npr.org/2021/08/16/1027521278/revie…
–"…Steinbeck might not be the No. 1 literary pride of Watsonville for long. Enter Jaime Cortez, whose debut short story collection, Gordo, is set in and around the Pajaro Valley town. Cortez's book is an unforgettable portrait of the working-class Mexican Americans who lived there in the 1970s — including the charming misfit title character, who narrates most of the stories. . . Cortez's depiction of Gordo is both joyful and heartbreaking." |


–|By Miah Jeffra in the San Francisco Chronicle|
- datebook.sfchronicle.com/books/review-i…
–"…"masterfully navigates adverse conditions of migrant life while prioritizing in these stories the way people adapt to their circumstance — managing to find joy and amusement, love and triumph, that which makes us delightfully human — amid its challenge. …the way these characters achieve belonging is at once simple and miraculous."|


–|By Kathleen Rooney in the Minneapolis Star Tribune|
- www.startribune.com/review-gordo-storie…
–"…The 11 stories each stand alone, satisfyingly self-contained, including three that shift out of Gordo's purview and into other community members: the ne'er-do-well Pardo family and the talented hairdresser "Raymundo the Fag." But they accumulate across the collection into a Winesburg, Ohio-esque map of an entire locality."|
– By John Killacky in the Gay and Lesbian Review
–"… With this new collection of short stories, Jaime Cortez joins important queer voices such as Ocean Vuong, and Robert Jones, Jr. as part of the next generation of writers reframing the intersectionality of what it means to be LGBT and American Today. His effervescent writing, filled with humor, drama, and pathos, invites readers into the lives of those not often seen in our society. His characters are imbued with grace, perseverance, and resilience."|


– Kirkus Review
UPCOMING EVENTS
Wednesday, December 15, 2021
Fabulosa Books (online event)
"Perfectly Queer," featuring Jaime Cortez, Bob Rosen, Jerry Wheeler
7pm – 8pm (Pacific Time)
Registration information for "Perfectly Queer" is at :perfectlyqueersf@gmail.com
August 17, 2021 at 6:00pm
City Lights Books
Online Event
Learn more
September 16, 2021 at 6:00pm
Asian Art Museum
San Francisco, CA
Learn more
Shedding profound natural light on the inner lives of migrant workers, Jaime Cortez's humorous, heart-warming, and heartbreaking debut story collection, based on his own real life experiences, gives voice to a community of migrant farm workers in the West, and in the process broadens the scope of American literature.
The semi-autobiographical stories in Gordo are set in farm worker camps and farm towns near Watsonville, California in the 1970s.
In this hardscrabble environment, a young and probably gay boy called Gordo grows up. In one story, he dons a wrestler's mask and throws fists with a boy in the neighborhood, fighting his own tears as he tries to grow into the idea of manhood so imposed on him. As he comes of age, Gordo learns about sex, watches the drunken brawls of his father and his friends, and discovers the distinctions between documented and undocumented immigrants.
Other distinct and memorable characters populate Gordo's world. There is Fat Cookie, a high schooler and resident artist of the farm worker camp, who uses tiny library pencils to draw florid graffiti with Chicano Power slogans on the walls of the camp. She steals her mother's portable radio to provide a soundtrack for a harsh, all-kids dance competition of her devising. She is definitely the coolest, fiercest kid in the camp, until her troubled relationship with her mom and lecherous stepfather goes terribly wrong.
And then there are Los Tigres, the teenaged, almost identical green-eyed indio brothers, Benito and Manuel. The brothers are mysterious, showing up at the camp every harvest season without parents or family. Champion drinkers, the boys end up battering each other in a drunken brawl, until one of them is rushed to the emergency room, slumped in an upholstered chair in the back of a pick-up truck.
These scenes from Steinbeck Country, seen so intimately from within, are full of humor, family drama, and a sweet frankness about serious matters – who belongs to America and how are they treated? Written with balance and poise, Cortez braids together elegant and inviting stories about life on a California farm worker camp, in essence redefining what all-American means.
Gordo is a work of semi-autobiographical fiction that is appropriate for adult and young adult readers aged 14 and up.


To learn more about Gordo, you may visit the Grove Atlantic website:
https://groveatlantic.com/book/gordo/